Fast,

Secure,

and

Reliable

Reseller

Hosting
24/7 knowledgeable Support
What

makes

our

reseller

hosting

different?
The web hosting with us, more powerfull and secure.
Support
We will be by your side the whole way. The minute you purchase or register to one of our services you will get direct support.
Reliability & Improved Servers
Choosing us means that your website is not reliant on one server. The exertion is distributed on several servers, successfully overriding any server error. Hence the 99% uptime guarantee.
Speed
Your website will be hosted on 100% SSDs to ensure the maximum speed for your website.
Security
In this day and age where websites are vulnerable to cyber attacks, you need the best protection you can get. Our servers are built to provide solid security measures to keep websites safe and prevent any attacks.
We partner with leading providers around the globe. Choose a server location as close to your visitors as possible
Reseller

Hosting

Features
We offer the fastest hardware and software in the industry, easy with the best technical assistance in around the world and trusted by thousands of developers.
Free Setup
We will setup your hosting for free only in 1 mins.
Most Secure
We protect your websites with 256 Bit Encryption.
Faster Performance
The incredibly fast LightSpeed web server.
Virus And Spam Protection
Blocks spam and viruses from your inbox.
Winning Support 24/7
We will support you night and day everyday.
Uptime Guarantee
We guarantee your website over 99% uptime.
Free Daily Backups
We will auto backup your website content daily.
Imunify360
Imunify360 malware protection is included as standard on all systems
Web

Hosting

Reseller

Plans
Most Powerful Capabilities At Very Affordable Prices.
Advanced
$
99.99
/yr
Unlimited NVMe SSD disk space
Premium
$
199.99
/yr
Unlimited NVMe SSD disk space
How much profit

I can get

from reselling hosting?
*Suppose you sold the following plan ( medium ) 15 times and added $11 as your profit on each sale, in this case, your net profit would be $165
Technical

Specifications

for

Reseller

Hosting
All technical specifications we supported in ResellerTown
| | |
| --- | --- |
| MySQL version (server) | 5.5, 5.6 |
| MySQL client | Yes |
| phpMyAdmin | 4 |
| Toad for MySQL | Supported |
| MYSQL: MyISAM | Supported |
| formmail.cgi | Supported |
| SFTP | Supported |
| MySQL Admin tools | Supported |
| | |
| --- | --- |
| CentOS | 7.x* |
| Apache | 2.4* |
| cPanel | 86 |
| WHM | 86 |
| PHP | 5.6 To last version  |
| MySQL version (server) | 5.5, 5.6 |
| MySQL client | 5.1.73 |
| Python | 2.6.6 |
| PEAR | Supported |
| phpMyAdmin | 4 |
| CloudFlare | Supported |
| Softaculous | Supported |
| ionCube Loader | Supported |
| PDO_MySQL | Supported |
| Perl | Supported |
| PHP Safe Mode | Supported |
| mcrypt | Supported |
| Zend Engine | Supported |
| eAccelerator | Supported |
| Ruby | Supported |
| zlib | Supported |
| cURL | Supported |
| cURL Library Functions | Supported |
| ImageMagick | Supported |
| | |
| --- | --- |
| Zend Optimizer | Supported |
| Zend Guard Loader | Supported |
| mod_mime.c | Supported |
| jQuery | Supported |
| InnoDB | Supported |
| SSI | Supported |
| mod_rewrite / URL rewrite | Supported |
| Ruby On Rails | Supported |
| Javascripts (only if embedded in HTML) | Supported |
| soap module | Supported |
| json | Supported |
You are in

a safe place

all the time
Our underlying infrastructure always updates, so you'll never be stuck on legacy hardware, or suffer because of a faulty disk.
Backups every 12 hours stored offsite, so you can rely on us if you make a mistake or want to roll-back.
No transfer worries or slow network speeds. Every server has a 1000mbit/sec connection. We won't limit your bandwidth or cap you.
Reseller

Cpanel

Hosting

Key

features
We built the best cPanel web hosting platform possible. We have included everything you and your client.
Fully managed
No technical experience required.
cPanel
Popular & easiest control panel.
Free migrations
Move your websites to ourselves.
WordPress
One-Click WordPress installation.
Jetbackup Included
Browse, restore and download backups.
NvME servers
With high performance NvME disks.
LiteSpeed
The incredibly fast LiteSpeed web server.
Imunify360
Malware protection is included.
It couldn't be easier, and it's fully automatic
Reseller Hosting's Whmcs Module
WHMCS

ResellerTown

module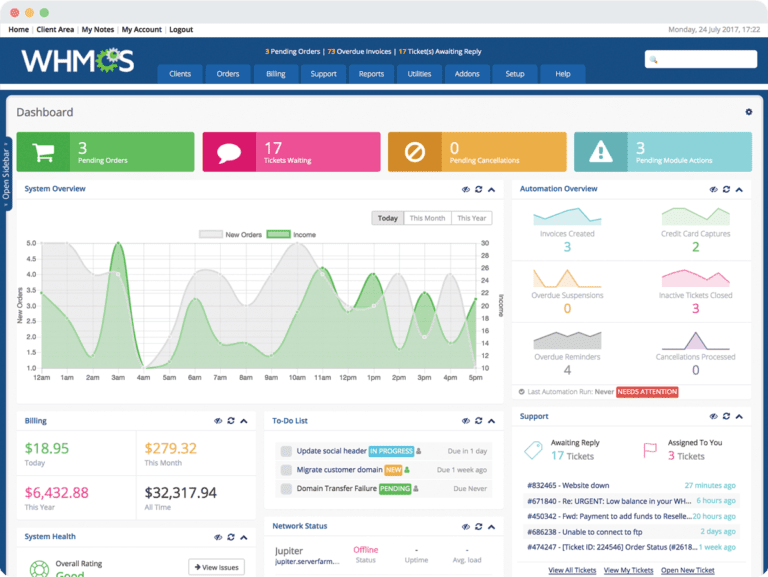 Install
Install our module on your whmcs.
Active
Active our module on your Whmcs.
config
config the module and start selling.
Starting

Your Hosting Business

In a few steps
Extract and upload the integration module into the reseller's main WHMCS directory
The Reseller has access to the Reseller Area once logged into the provider's client area.
There, you can download the integration module and its documentation and generate and copy any API
details required to activate the integration module in your own system.

Then, you need to set up products that we allow you to resell with the integration module delivered by us.
Defines the pricing (prices must be higher than the ones we have set up to generate income).

One step separates you from offering the product from his system.
You must add funds to your credit balance in our system to be able to pay off the charges and settle the
amounts owed to us for your resold products.

We create an 'add funds invoice' for you, you pay the invoice, and then again we add the same amount to
your credit balance.
From now on, any product can be ordered.
The end Client orders a product from his client area in your system.

Once the payment is complete, details of the ordered product (i.e account credentials) are sent to the end-
client mail address using the selected reseller's welcome email template.
High speed reseller hosting
We give you best tools to get best results.
PageSpeed Insights - Google
cPanel control panel interface allows you to do all sorts of things to manage your website, E-mail, databases and file storage. It is a user-friendly interface that does not require prior experience.
We will be by your side the whole way
Response Time on average is 45 minutes
More than 500 knowledge base article
Most

frequently

asked

questions
Your question. Our answer. Also please read our knowledgebase page to know everything about our services and products.
Reseller Hosting is a service that allows you to easily host your own clients or even start your own hosting business. You don't have to worry about hardware or networks with our turnkey Reseller Hosting solution, because your customers will be hosted on our servers! Your Reseller account features a set amount of disk space and bandwidth that you can allocate among your customers however you like.
We offer a dedicated area to our resellers and they can manage everything there, Hosting, Domains, SSL, and more. Your logo will be everywhere, client areas, invoices..etc.
Our nameserver and control panel are totally white label. We don't mention our name in any place. It's our server and teams but your products. 
Everyone can be resellers with us. We believe that designers, advertisers, programmers, developers, and so on companies or individuals are the biggest beneficiaries of our services because they will be able to add hosting to their services without any additional costs and without risk.
Sure, you are free to use any domain with the shared hosting. All you have to do is set the domain name settings, DNS. If you haven't done that before, you can contact us and we will gladly help you through this process.
cPanel. It is a full-scale interface to easily create E-mail accounts, install applications like WordPress and Joomla, analyze web and visitors' statistics, and manage the web hosting in general. The control panel allows you to manage your files, your databases and your domains.
As we mentioned, we are a white-label reseller hosting,  we can't directly answer your clients. The responsibility of the Reseller is to provide their customers with support. BUT, our team is more than happy to help you resolve issues. Simply submit a ticket with the information and we'll work our hardest to ensure your clients stay happy.
Of course and free of charge! We can always help with that. After purchase, all you have to do is contact our technical support team to complete this process.
The average response time for support tickets is 45 minutes, 24/7.
The hosting service becomes active immediately after successfully receiving the payment, it may take some time to verify the payment status, we appreciate your patience